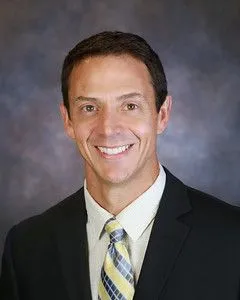 Dr. Gregory L. Torosian

Dr. Greg Torosian is a proud Creighton University alumni, earning both his bachelor's degree in mathematics there in 1993 and then his dental degree in 1997. He has been practicing dentistry in Omaha since then. Dr. Greg has trained extensively in all areas of comprehensive dentistry. The state minimum requirement for continuing education in dentistry is only 30 hours of study every two years, and Dr. Greg exceeds that requirement with an average of more than 100 hours of study annually. He is passionate about providing state-of-the-art care and serving his patients to the best of his ability.
Outside of the office, Dr. Greg enjoys spending time with his family. He loves triathlons, golfing and fishing in the summer months and hunting and skiing in the winter months. He and Karli, his wife of 23 years, have four children; the oldest son is proudly serving in the US Navy. The Torosian family are very involved in the community—Karli owns and operates a local dance studio, Backstage Dance. Dr. Greg faithfully follows San Francisco Giants baseball, Nebraska Husker football and Creighton University basketball.
He looks forward to getting to know you and your family.
Dr. Greg's comprehensive post-graduate training and education includes:
The Dawson Academy: (full year of study) St Petersburg, FL (thedawsonacademy.com) --Advanced training in complex restoration, TMJ treatment, occlusal therapy (bite problems and imbalances). Training was completed with world-renowned clinician, author and educator Dr. Pete Dawson.
Mid-Atlantic Center for Advanced Dental Study: Chesapeake, VA (mid-atlanticcenter.com) --Study was completed with international clinician and educator Dr. John C. Cranham.
Invisalign Certification: Kansas City, MO (invisalign.com)
Icon Articulation: (full year of study) Omaha, NE -- Education completed with orthodontic specialist and diplomate, Dr. Kelly Conway.
The Kois Center: (koiscenter.com) -- Education with international educator and periodontal/prosthetic specialist, Dr. John C. Kois. Studied restorative/periodontal interface Biomechanics I and esthetic gingival surgery with clinical Instruction by Dr. Bill Robbins and Dr. Eric Rindler
American Academy of Cosmetic Dentistry, Annual Conferences: (AACD.com)-- Successfully passed written exam.
Camlog Implant Education: Omaha, NE (camlogus.com) --Implant fundamentals, diagnosis and treatment planning, surgical techniques and more with Dr. Jim Eggleston.
California Implant Institute: (full year of study) San Diego, CA (implanteducation.net)-- Studied oral implantology and advanced bone grafting in-depth with institute director and award-winning implantologist Dr. Louie Al-Faraje.